YcWhatsApp APK Download: WhatsApp is the most used social messaging application and is available on all major platforms. Android and IOS are the two platforms which account for most for WhatsApp users. Many users claim that the iPhone version of WhatsApp locks much better than the Android version. Many people also ask if it is possible to download an iPhone style WhatsApp on Android devices. The answer is absolutely yes. YcWhatsApp APK is a WhatsApp Mod which has iPhone like user interface and is available for Android devices running on Android 4.0 or above. We will guide you through the steps to download this amazing application on your device.
| | |
| --- | --- |
| Android Application Name | YCWhatsApp |
| File Name | YCWhatsApp.apk |
| Version | 4.00 |
| Minimum Android Version | Android 4.1 (Jelly Bean, API 16) |
| Last Updated | July 2019 |
| App Type | WhatsApp Mod |
| Developer | YC Mods |
| App Size | 52MB |
| Downloads | 1M+ |
What is YcWhatsApp?
YcWhatsApp is just another WhatsApp Mod application which has got some amazing features that are not available on stock WhatsApp. You might be aware of the fact that the user interface of WhatsApp is not similar to Android. For instance, the stories do not have a separate Tab on iPhones. Rather, they have an Instagram type of story. The stories are placed horizontally on the homepage itself and the chats are placed just below them. Moreover, this application has also got other features like the WhatsApp mods which can eliminate all the unwanted settings and unlock some valuable ones.
Features of YcWhatsApp APK
iPhone like WhatsApp
The unique feature of YcWhatsApp APK is the iPhone style user interface. It will completely revamp the WhatsApp Android application and make it feel like that available on iPhones. For instance, the stories will be available directly on the homepage in a linear format. It a somewhat similar to what you find on Instagram. Similarly, they will be many user interface changes that you will feel after downloading this version of WhatsApp.
Anti-Delete
YcWhatsApp has a special setting which will help you to block people from deleting the messages. You might be aware of the feature that allows the users to delete a message for everyone. This feature can be removed from WhatsApp after installing this version. Hence, no one can delete the message if they have sent it to you.
Media sharing
This WhatsApp Mod application removes the restriction of sending media files via WhatsApp. You can now send more than 10 pictures at a time. Similarly, large-sized videos can also be shared with friends.
App lock
The application provides a security feature using which you can lock the WhatsApp account. There is no need to download an external AppLock for protecting your WhatsApp messages from your friends.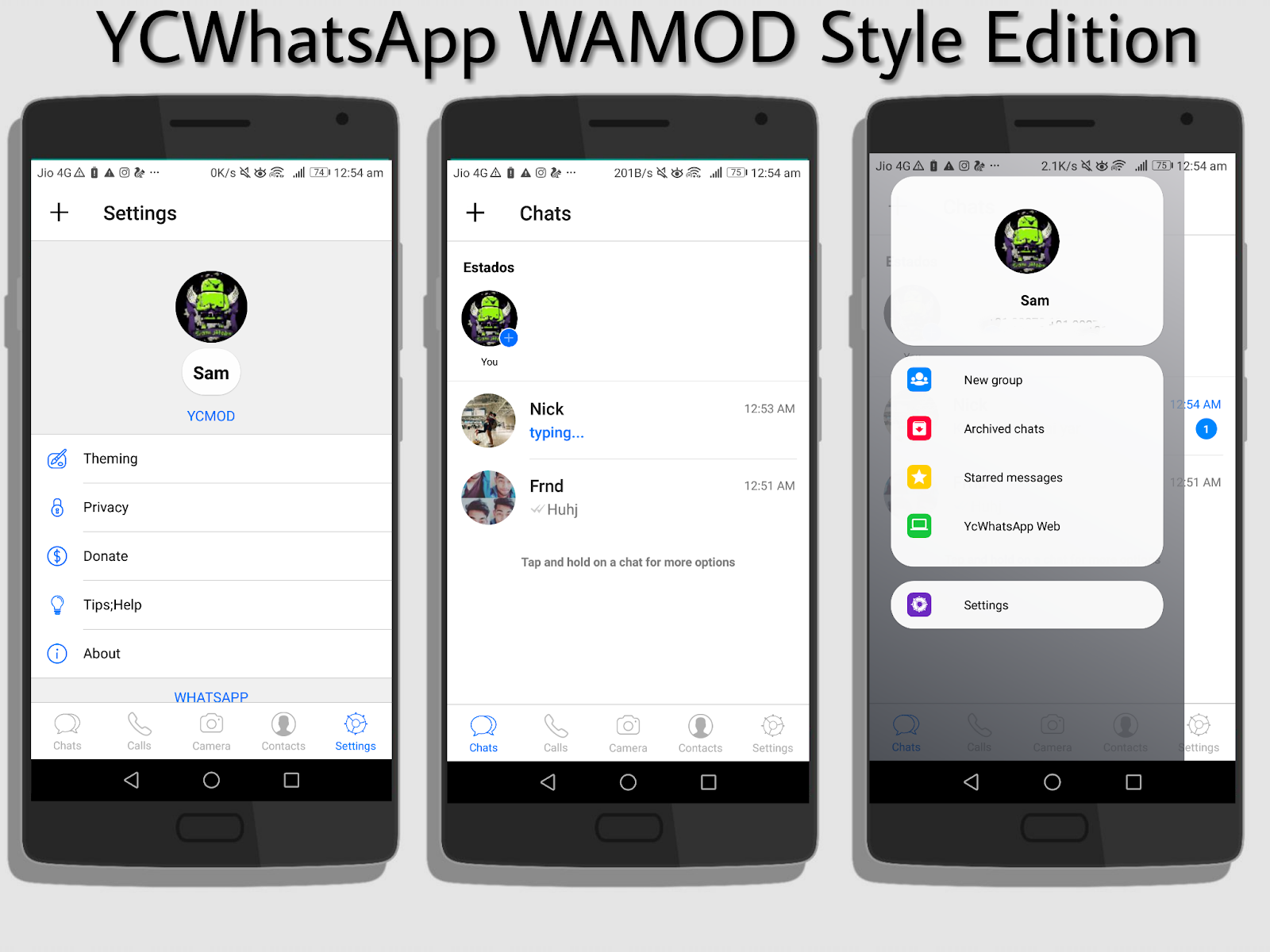 Download YcWhatsApp APK on Android
It is very easy to download and install YcWhatsApp APK on android smartphones. The WhatsApp Mod application is not officially available on the Google Play Store. You might be aware of the fact that all the WhatsApp Mod applications are developed by anonymous developers and this is the reason why they are not officially available. Hence, users will have to follow an alternate procedure in order to download it on their smartphone. The APK procedure is suitable for downloading the application on Android devices. Follow the simple steps given below in order to download the application on your Android device.
Go to a trusted developer's website and download the latest version of YcWhatsApp APK or You can download from below provided Link.
now go to the settings on your device and enable the trust unknown sources option from the accessibility menu.
Now go back to the file manager on your device and select the downloaded APK file
Click on install and follow the instructions given on your screen in order to complete the installation procedure
the application will be successfully downloaded on your device and is now ready to give you the iPhone WhatsApp feel.